Tradewinds (Robust Records, 2020) is the debut album from Grand Shores, a multi-instrumental fusion of American and West African musical traditions featuring Gabriel Pelli (The Old Ceremony, Squirrel Nut Zippers) and Will Ridenour (Diali Cissokho & Kaira Ba, Zegota).  
The album was recorded in Saint Anne's Chapel, a single-room, 100 year-old chapel located in rural North Carolina. This historic site became a setting for experimenting with a variety of unconventional practices that together grants Tradewinds its originality. By hanging microphones from the rafters, placing them in the corners, and directing them at the stained glass windows, engineer Thom Canova infused the physical space of the chapel—from its wooden grain to its natural reverb—into the recording process itself. Listen closely and you might hear a passing truck, full of hay bales, slowing down at the crossroads. The final mix blends these tracks together, and the result is a warmth in the recordings that stokes the fires of familiarity, inviting listeners to a private experience.  
Every album raises the hope of capturing something authentic. With Tradewinds, Grand Shores succeeds, not only because you can hear the North Carolina frogs and insects in the background of "Wild Kingdom"—though you can; and not just because "28th of January" features the interplay of two gifted musicians playing one fiddle—though it does. Rather, the record maintains its closeness to the listener by balancing an array of different kinds of intimacies, transitioning seamlessly from, for example, a track like "Jarabi," that grabs you with its percussive intensity, to "Knew It Couldn't Last," a personal ballad about memory and loss. "With a chainsaw and a cigarette you built your house out of wood, on the mountain of crystals where those great pines once stood," Pelli sings, evoking an image that owes its endearing quality to equal parts candor and precision. In such moments, "those great pines" being sung about seem to merge with the woods encircling the chapel where the music was recorded.  
The album maps out a space that begins to feel familiar. One might say that it is this feeling of familiarity, a close-knit regionalism, that is the hallmark of any folk music tradition. But in a collection of songs with an international scope, its instrumentation and repertoire inching towards the global, it is the surprise of closeness that makes Tradewinds a remarkably compelling album. 
In addition to several originals, the album features covers of Ali Farka Touré and Townes van Zandt, as well as multiple new arrangements of traditionals from around the globe. Each track showcases the duo's distinct pairing of American and West African string instruments, most notably guitar and kora.  
Throughout this eclectic journey, Grand Shores stays very much rooted to the space that they call home. But they prove, in doing so, that the local enclaves of home contain much more room than we might think. Like the easterlies evoked by the album's title, which forever blow from east to west, Grand Shores brings the world a little closer, one note at a time.
- Sean DiLeonardi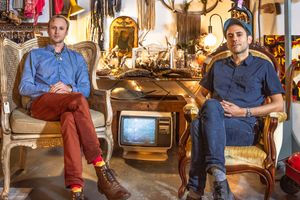 Digital Downloads
0:00/3:19

0:00/4:39

0:00/3:27

0:00/4:51

0:00/4:25

0:00/4:24

0:00/3:44

0:00/4:28

0:00/5:42

0:00/2:30

0:00/3:52

0:00/6:01
What are our songs about, you ask?
1) Tradewinds 
Inspired by a West African traditional called Naweye Toro, Tradewinds is our interpretation of this popular piece from 1950's Mali. It was lost for a long time, then resurrected on the 2005 award-winning album, "In the Heart of the Moon" by Ali Farka Touré and Toumani Diabaté. 
2) Jarabi 
Jarabi is a very well-known piece from West Africa that has made the rounds with just about every musician from that area and beyond. With the title meaning "passion" or "love," it was composed and became popular in the period around Independence (early 1960's). Our interpretation of Jarabi is heavily influenced by a version made popular by Malian kora virtuoso Toumani Diabate and his son, Sidiki Diabate. 
3) Knew It Couldn't Last  
This is an original song about nature discovered, freedom gained, and innocence lost. It's dedicated to Ms. Peggy, a pioneering naturalist, sweet soul, and one tough lady.   
4) Hawa Dolo 
One of our biggest musical inspirations is the late great Malian guitarist Ali Farka Touré. He first released this song in 1993 on his album "The Source," telling a Dogon story about fidelity and trust. Then in 2005, he did an instrumental version with kora player Toumani Diabate on their award-winning album, "In the Heart of the Moon." This latter version really inspired us, and we love playing our interpretation of this tune, especially for patients in the hospital. 
5) Kalaban Coura 
Originally composed by Will as a solo piece, "Kalaban Coura" is named after the neighborhood in Bamako, Mali where he studied kora and Malian culture in 2010. He originally composed this piece in honor of his host family, the Doumbias, as a way to thank them for their profound sense of hospitality. Therefore, this song is dedicated to all those around the world today who show hospitality to strangers out of the goodness of their hearts. 
6) Wild Kingdom  
This song developed out of a soundtrack for a documentary film about children with severe genetic disorders. It is meant to convey the joy, creativity, and resilience of a child, despite incredibly difficult circumstances.  
7) Alla L'a Ke 
This is our interpretation of a very important piece from the traditional kora repertoire. There are as many versions of Alla L'a Ke as there are kora players, each having their own flavor while preserving the telltale bassline and accompaniment melody. The traditional lyrics speak to the phrase "l'homme propose, dieu dispose", meaning a person can decide what they want to do, but it's God (however one imagines God, or nature, or the universe) that ultimately decides what happens. 
8) Ways of the World 
This traditional Old-Time tune has the kora sitting in for it's banjo cousin as Africa reunites with the Irish Isles. Learning and performing this tune helped us to see how well the kora fits into Old-Time and traditional music from the U.S. 
9) Elzic's Farewell    
According to researcher Jim Comstock, this tune was originally composed in April of 1889 by a Civil War Veteran named Harvey G. Elswick. As the story goes, he played this tune as a eulogy for his mother on her deathbed, by her request. Since then, it's become known as a traditional tune and is played on a variety of instruments. We heard Norman and Nancy Blake perform the tune, and were inspired to create a version in a similar style (and possibly the first utilizing the kora).  
10) 28th of January 
When we play this tune live, Will strikes the strings of the fiddle with chopsticks to create a rhythmic accompaniment called fiddlesticks. It's likely an African influence on Old Time music, perhaps a substitute for banned drums and percussion. We learned this tune from the North Carolina Old Time revival group, Fuzzy Mountain String Band, who rescued countless tunes from obscurity and inspired many future generations.  
11) If I Needed You 
Written by Townes Van Zandt and first released in 1972, this song came to him in a dream. He woke up, wrote it down on a pad he kept beside his mattress on the floor, and fell back asleep. In the morning he took his pad into the guitar room, and the song was born.  
12) Les Piliers 
Meaning "the pillars" in French, this piece was composed by Will in 2012 to honor his parents' unconditional love and support throughout his career as a musician. Les Piliers strives to be an audible hug, imparting a sense of calmness, tranquility, and loving support.